Bell Ingram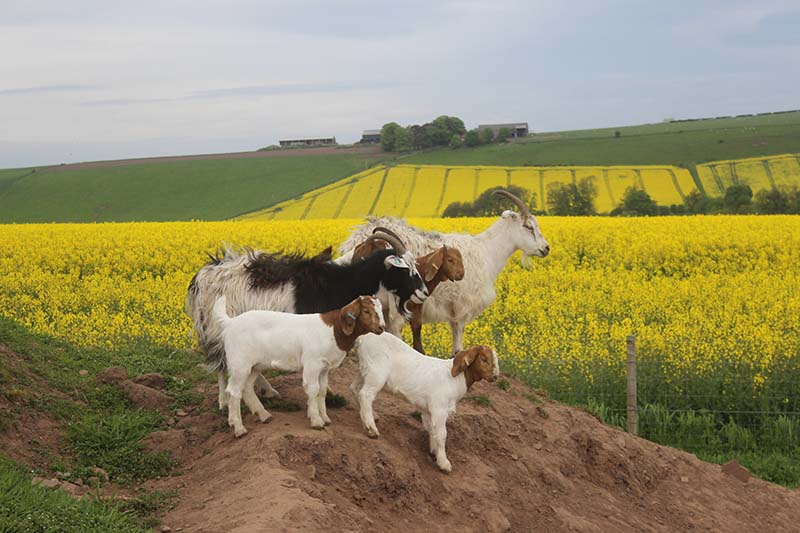 Bell Ingram has been working closely with farmers for well over a century. That's why we wanted to use our stand at the first Scottish Agricultural Show to showcase the work of some of Scotland's smaller farming businesses.
Malcolm Taylor, who heads up Bell Ingram's Land Management team, explains: "Getting the chance to sponsor the Goat and Young Handler's Category gives us a unique opportunity to champion this healthy, high-quality Scottish meat and hopefully convince shoppers to 'Give Goat a Go'!
"But don't just take our word for it. We've invited Neil and Jillian McEwan from Lunan Bay Farm in Angus and Victoria Gardiner and Adam Wright from The Scottish Goat Meat Company in Banff onto our stand to tell us more about why this delicious red meat is becoming more and more popular with top chefs and discerning consumers."
Neil and Jillian McEwan were on a mission to produce food that worked in harmony with the environment when they introduced goats to their beachside farm in 2016.
Jillian explains: "Goats are masters of regenerative agriculture as they improve pasture quality, leave the ground in a better condition that they found it, and increase biodiversity.
"They have a very low carbon footprint, their meat has a higher nutritional value, they eliminate invasive, non-native weeds, and they help recycle trace minerals back to the surface soil.
"We rear free range Boer Goats, which are the créme de la créme breed of the goat meat world. Our high welfare herd, which is based on a foundation of pedigree Boer genetics imported from expertly selected from Australia Boer goat studs, is infused with Scottish Cashmere Goat genetics to ultimately produce a free range meat herd that thrives in and improves our Scottish environment.
"Acres of unspoilt, coastal land at our farm at Lunan Bay make the perfect environment for our goats, coupled with a varied diet which includes seaweed, wild grasses, homegrown lucerne hay, broom and gorse.
"Our focus on the farm is to continue to produce Scottish goat meat of the highest provenance for our restaurant and retail customers, and further promote the ethical production of this sustainable, healthy meat."
Championing the benefits of goat meat to health-conscious consumers is also a cause close to the hearts of fellow goat farmers Victoria Gardiner and Adam Wright.
Established in 2012, their Scottish Goat Meat Company provides weekly deliveries of award-winning goat meat throughout the UK. Adam and Victoria started by renting small parcels of unfavourable pasture and outdated impractical buildings which enabled them to build up their livestock numbers and save enough to buy Hillhead Farm in 2013 and properly build up the business.
Adam says: "Goat meat is often referred to as 'the healthy red meat', a potential substitute for beef or pork. It is a lean meat with very good nutritional qualities which appeals to the health-conscious consumer.
"When compared to chicken, beef, pork and lamb, goat meat is lower in calories, fat, saturated fat and cholesterol. It also has higher levels of iron and higher potassium content with lower sodium levels."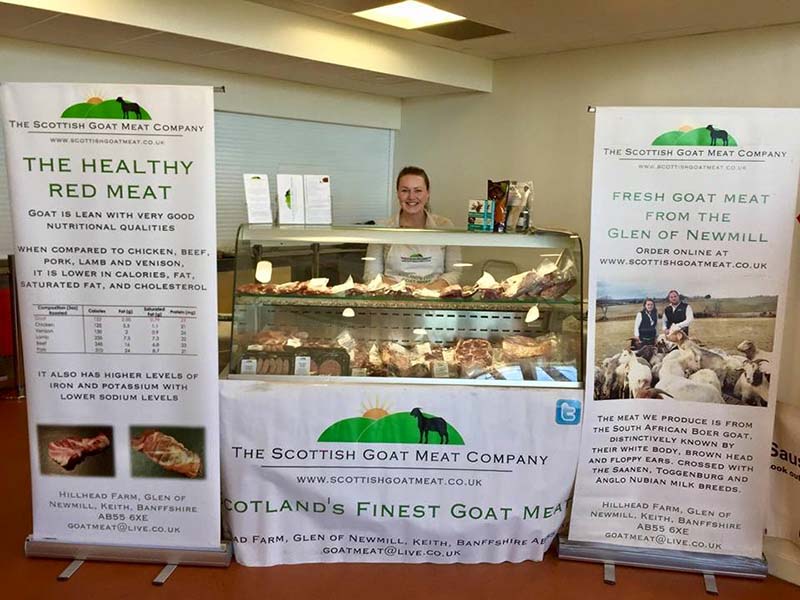 Adam and Victoria pride themselves in using local businesses to ensure minimum food miles. The production method and state-of-the-art livestock facilities ensure that the health and welfare of the animals are the main priority and this guarantees the highest quality of carcass.
Their next project, which should be completed by the end of the year, is four luxury glamping pods with hot tubs and BBQ houses to encourage people to visit the area, and learn more about where food comes from.
---