Ness Plant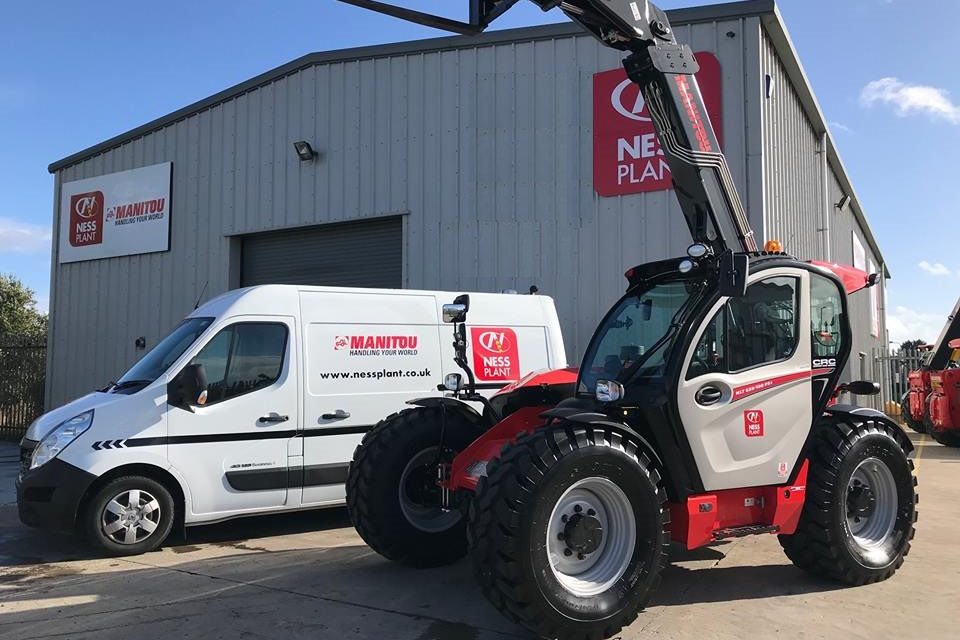 Ness Plant started in 2002 at Laurencekirk with an ethos of 'Family Business, Family Values'. It provides a range of Manitou agricultural, construction and industrial machinery along with warehouse equipment. 
In 2006 it moved to its current location of Brechin and in 2010 expanded by opening another branch in Kinross. 
From these premises, Ness Plant is ideally placed to provide a complete service, using the depots to their full potential to show new units and offer the latest information. 
Here's a closer look at exactly what's on offer from Ness Plant.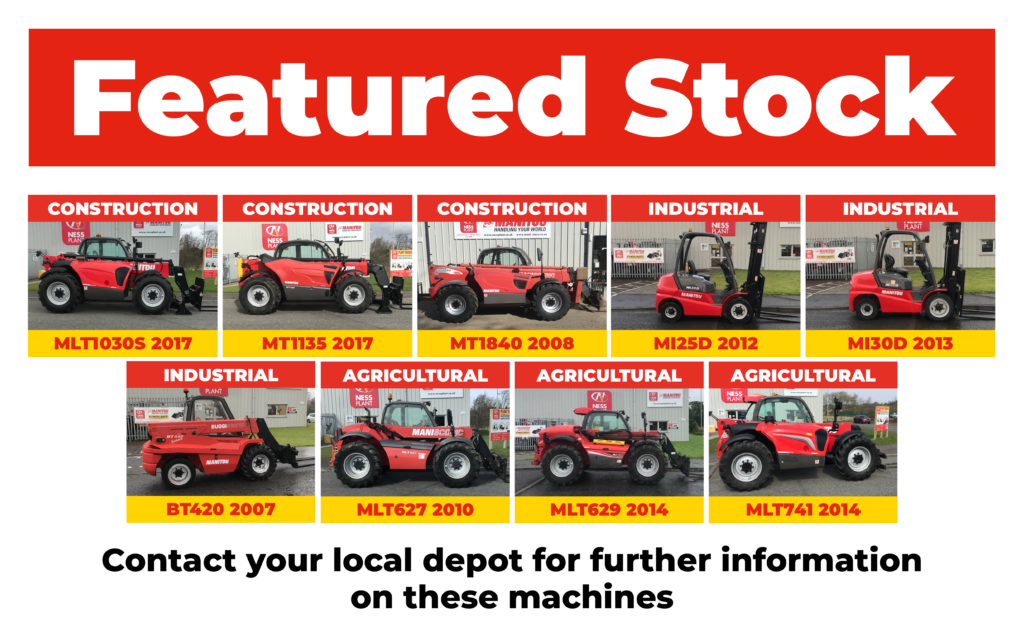 Leading brands
Ness Plant is an official Manitou stockist and has a wide range of Manitou equipment in stock, both new and used. 
Manitou offers a range of agricultural, construction, access, warehousing and industrial machinery, which means there's a machine available to suit all businesses. Whether you need it lifted, moved or stacked, Manitou has a machine for every need.
Manitou New Ag machines are suitable for all aspects of agriculture, from cereals and livestock to more diverse uses like market gardening, plant nurseries, equestrian centres and even wineries.
New Ag machines are available from the baby MLT420 with its 4.35m, 2000kg lift capacity up to the MLT961 with 9m, 6000kg lifting capacity, as well as a selection of articulated MLA machines.
Ness Plant carries a constant stock of all core New Ag products needed for the local farmer and also offers a range of machines for hire, both short and long term. Get in touch to discuss your requirements.
Every month Ness Plant shares different special offers on Manitou products, find out more here.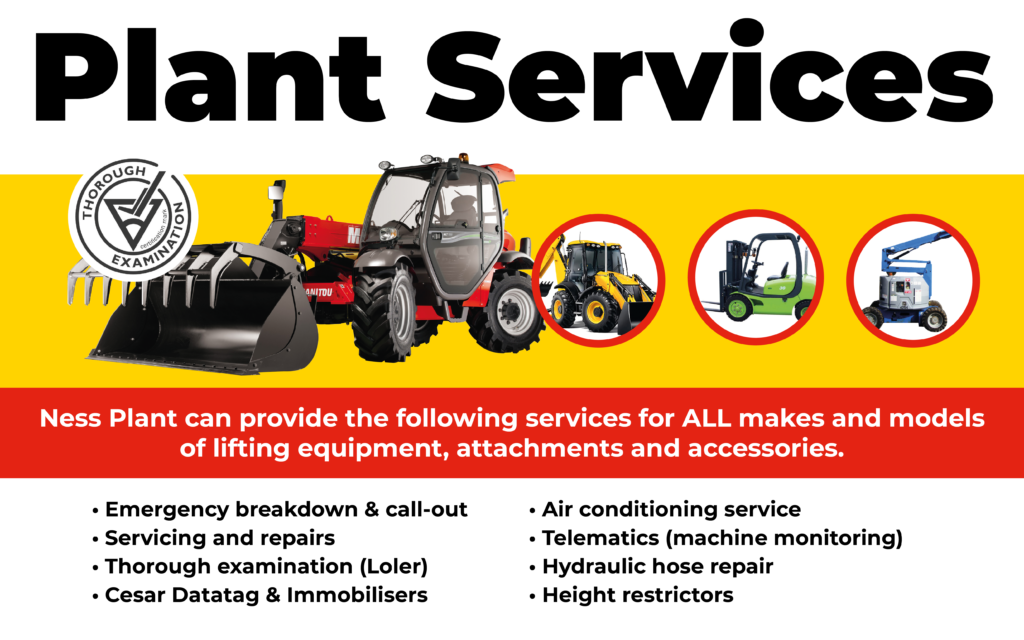 Servicing
You'll find a great service team providing a reliable back up and out of hours service at both Ness Plants depots, with fully qualified service engineers, apprentice engineers and service vans.
Alongside its main Manitou franchise, Ness Plant offers a range of services including:
Loler 98, Puwer 98 and Thorough Examination

Air conditioning service

Full hydraulic system testing

Hydraulic hose repair

Height and Slew Restrictor Safety Systems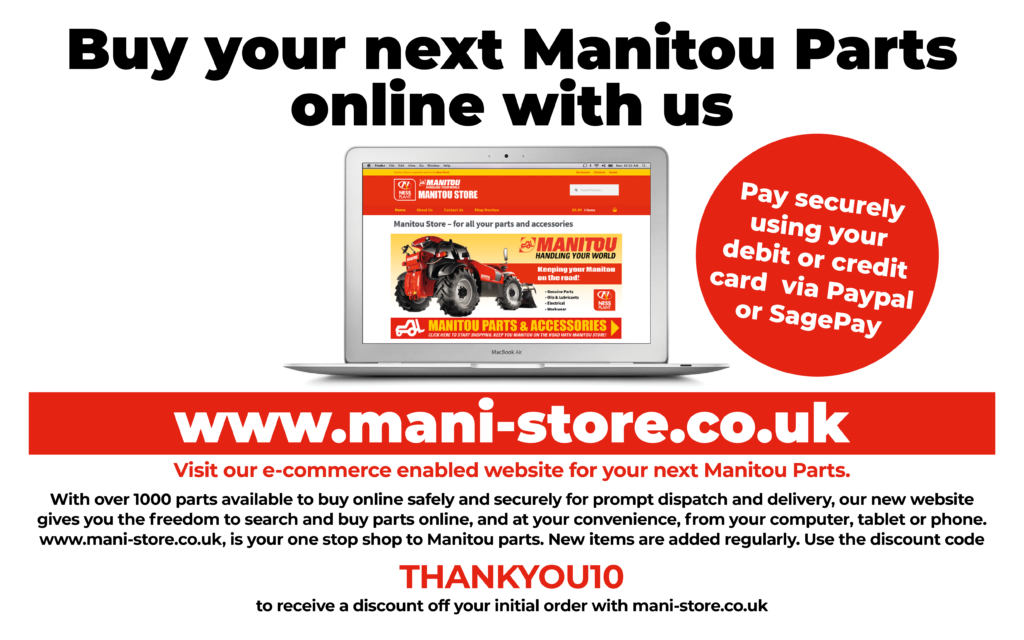 Parts and accessories
At Ness Plant you'll deal with a five time Manitou UK award-winning department. Both depots have a huge selection of genuine Manitou parts in stock, as well as other parts like machine attachments, Cobra garden equipment, Ambra Oils and Buckler boots, to name just a few.
With a parts stock in excess of £1,000,000, Ness Plant takes pride in being able to help you out with all your parts needs – and if it's not in stock, they'll order it for you! 
Find out more about Ness Plant
For further information on anything mentioned above, visit one of the following websites:
Sales & General Enquiries, here. 
Online Parts Ordering System, here.
Contact details for both depots can be found here.