Powerwasher Services Ltd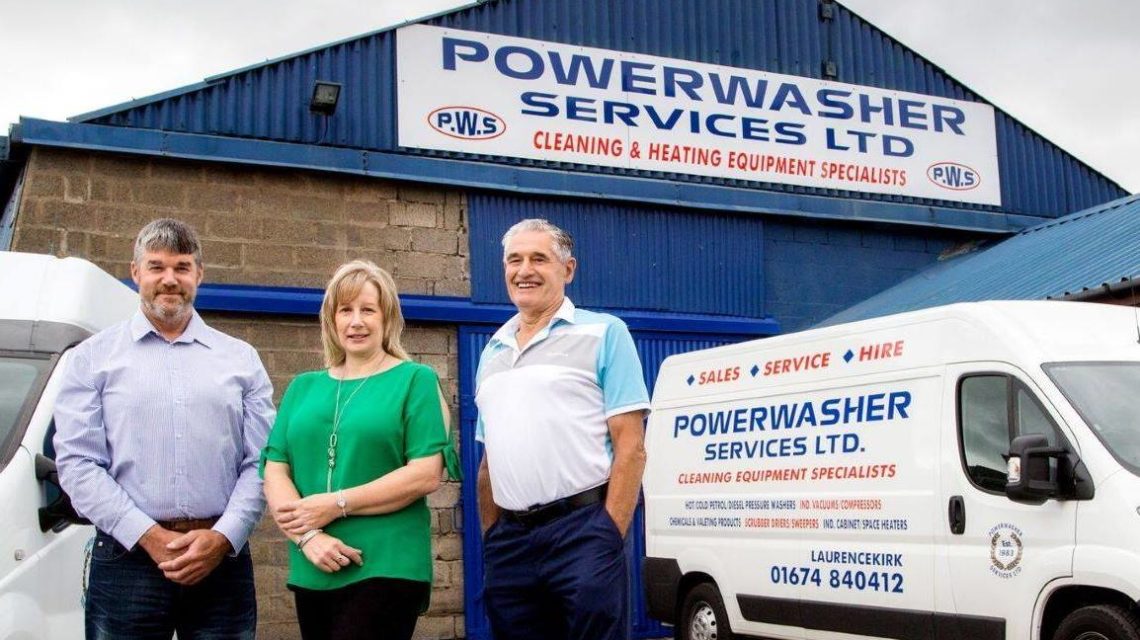 Powerwasher Services Ltd (PWS) is a family business, with three generations of the family now running it together.
It specialises in the supply, service, hire and repair of a variety of equipment, including:
Powerwashers
Scrubber driers
Floor sweepers
Industrial and commercial vacuums
Air compressors
Water pumps
Generators
Heaters
Dust suppression units
Cleaning chemicals, and much more
"We pride ourselves on providing high quality products at very competitive prices along with a second to none back-up service to our Scotland wide customers," says Liz Carnie, Managing Director at PWS.
"We are now in our 37 th year of delivering award-winning service to our customers and are proud to say that hard work, determination and the supply of quality products has put us miles ahead of competitors and number one for our loyal customers."
Adapting with the times
The business was started in 1983 by Jack Whitecross. Leaving school and working initially as a dairyman, Jack has a vast understanding of the agricultural market.
As technology adapts and changes over the years, PWS continuously works to ensure the machines supplied are up to the standard of the modern agricultural industry.
"We have a wide range of products to cover any market from the small croft up to the largest milking parlours, chicken or pig units and we can even build bespoke units with pipelines as required," says Liz.
Experienced and knowledgeable staff work closely with customers, offering site surveys and demonstrations to establish the appropriate machine for your requirements. The team of fully trained engineers cover all of Scotland for service and repair requirements.
They aim to attend all call-outs within 24 – 48 hours and to repair as much as possible whilst on site. A fully operational workshop with a fully stocked parts department enables PWS to carry out more complicated repairs, with free-of-charge loan machines available to ensure you can continue to operate.
PWS has experience in all makes and models, which enables engineers to look after your equipment in an efficient and timely manner – plus, there are no call-out or mileage charges.
Working with PWS
Like always, PWS has further adapted in 2020 – this time, to meet the demands of Coronavirus.
"Over the past few months during the pandemic, our team have been working hard to ensure we are providing the correct and up-to-date information and products to protect yourself, employees and customers from the spread of the Coronavirus," says Liz.
"We now stock PPE and high standard detergents to help combat the spread of the virus whilst keeping your business operational."
At the start of lockdown PWS operated on a skeleton staff, but now work is picking up again they're getting back to normal.
This means PWS is available during working hours for advice, sales, service, hire or repairs.
---
Get in touch with PWS today on 01674 840412 or visit its website here for more information
on available products and services.
Click here to visit our Facebook page.