Soak up some food and drink inspiration with our virtual farmers market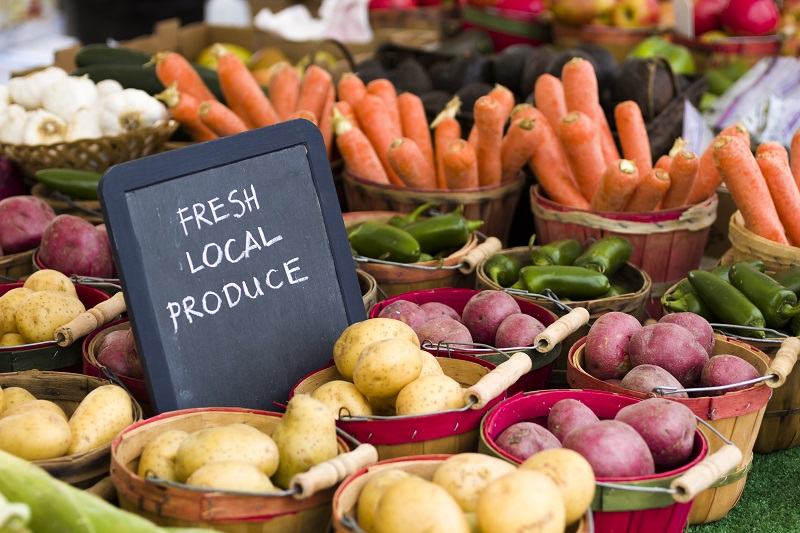 Are you missing a good ol' wander round a farmers market on the weekend?
Have no fear, we've got the next best thing – a virtual guide to 12 of your farmers market favourites!
From handmade cheeses to fresh fish and unique chutneys, these local Scottish food and drink companies have lots to offer.
Follow the links to find out more about each company or place an order.
Buy tea or coffee from Dundee's oldest shop Braithwaite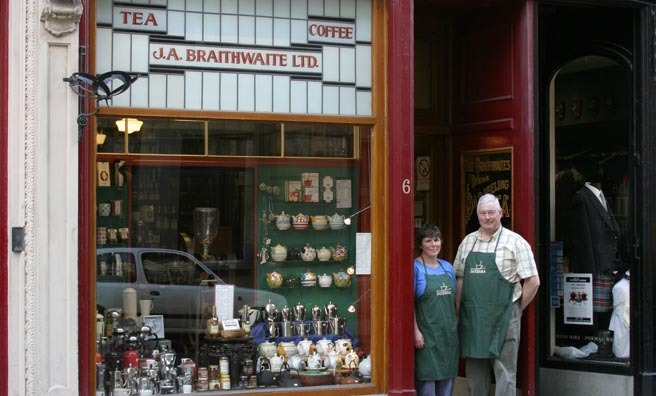 Braithwaite proudly holds the title of being Dundee's oldest shop, having first put the kettle on back in 1868 in its original location in the City Square before moving to its present site in 1932.
The vintage feel of the shop is helped by the fact that all the wooden counter tops, drawers ancient tea chests and the huge mahogany display unit are the original fittings. They even use some of their original machines and scales.
The shop offers an impressive 100 different teas and 30 different coffees to choose from, as well as an extensive range of tea and coffee pots.
Staff are really friendly and full of advice for novice slurpers! Allan Braithwaite – the fourth generation owner – is usually around roasting beans to an age-old family recipe.
Follow Braithwaite on Facebook to find out more.
Order unique food and gift hampers from The Arran Gift Box Company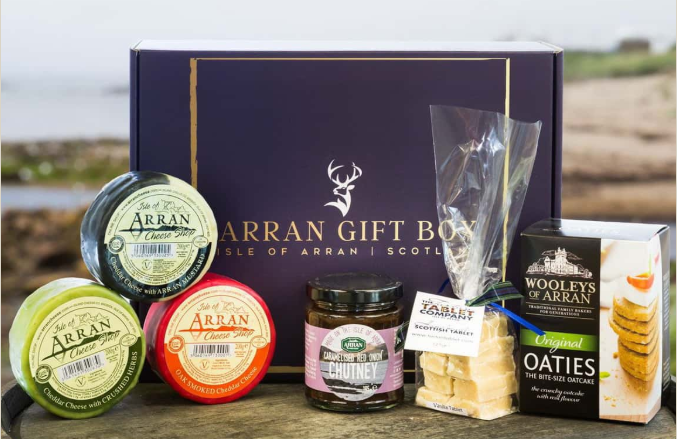 The Arran Gift Box Company offers a range of Scottish food and gift hampers containing food products from the Isle of Arran.
Its range of specially selected Scottish hampers contain a carefully chosen combination of delicious and fragrant Arran products –  the perfect gift for every occasion and a chance to discover more about the Isle of Arran.
According to the company owners, the idea behind The Arran Gift Box Company was to allow everyone to take a little bit of Arran into their own homes – to experience something of Arran's charm, to spread the word and maybe remind visitors of their time spent there.
The company has a wide range of different hampers, from the Original Hamper containing Scottish oatcakes, Arran cheeses and mustards to the Deluxe Hamper with an extra compliment of whisky-favoured products and chocolate all produced on Arran.
There are also Christmas Hampers, 'His' and 'Hers' hampers and even a Wee Hamper containing just enough produce to be the perfect gift or 'thank you' for someone special.
Find out more about the hampers available from The Arran Gift Box Company.
Enhance meals with jellies and sauces from Allan's Chilli Products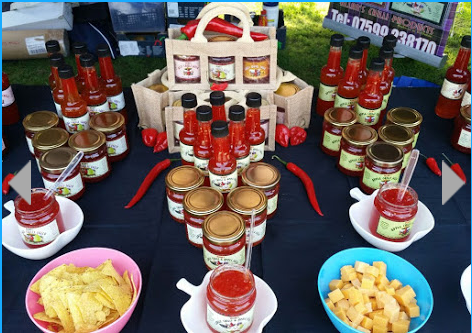 Allan's Chilli Products is an established business selling jelly and sauces in Abernethy, born from a desire to add some extra flavour to bland meals.
The owner had a taste in mind that would enhance not only all types of meats and fish, but cheeses as well. It took some time to perfect the combinations but now the final products on sale today are just right!
Made from quality natural ingredients, Allan's Chilli Products have been producing jellies and sauces for some time, with products sold online.
The Allan's Chilli Products team is renowned for its outstanding talent in the kitchen – all recipes have been honed and perfected over many years. They are delicious added to a stir-fry or accompanying assorted cheeses. The team's culinary expertise and passion is second to none.
As well as high quality jellies and sauces, you'll also receive the highest quality of service when you order with the company, with free delivery for orders over £50.
Find out more about Allan's Chilli Products and order online.
Enjoy handmade cheeses from Drumturk Cheeses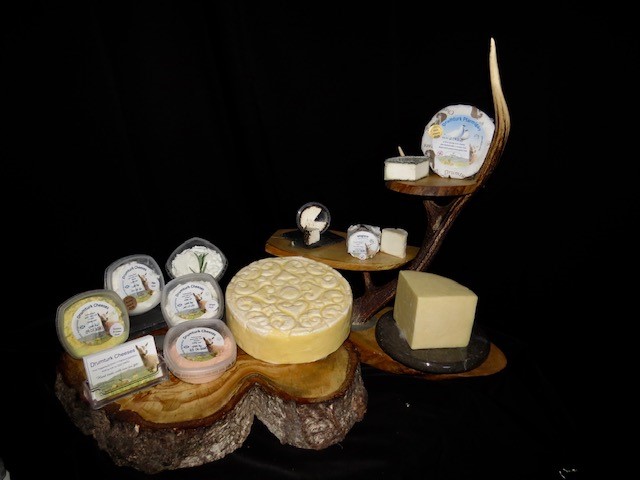 Drumturk Cheeses began in 1978 making farmhouse cheeses from the milk of the owner's house cow.
Goats arrived in 1979 and simple goat milk curd and speciality peppered goat cream cheese were made and sold for 10 years, only stopping as the family grew. The goat herd is now the largest herd of pedigree Toggenburg dairy goats in the UK.
In 2014 cheesemaking was revived and a new selection of unique goat milk cheeses are now made by Drumturk Cheeses.
In 2019 its most popular cheese, Drumturk Ptarmigan, was entered in the competition at the RHAS for which the team were delighted to receive a Gold Award. They also won a Bronze Award for their Simple Curd.
All cheeses are handmade and hand finished. Milk and cream is pasteurised and vegetarian rennet is used. The goats have time off when they have new kids, but some cheeses are available for most of the year.
Find out more about Drumturk Cheeses.
Dine in style at Da Vinci Restaurant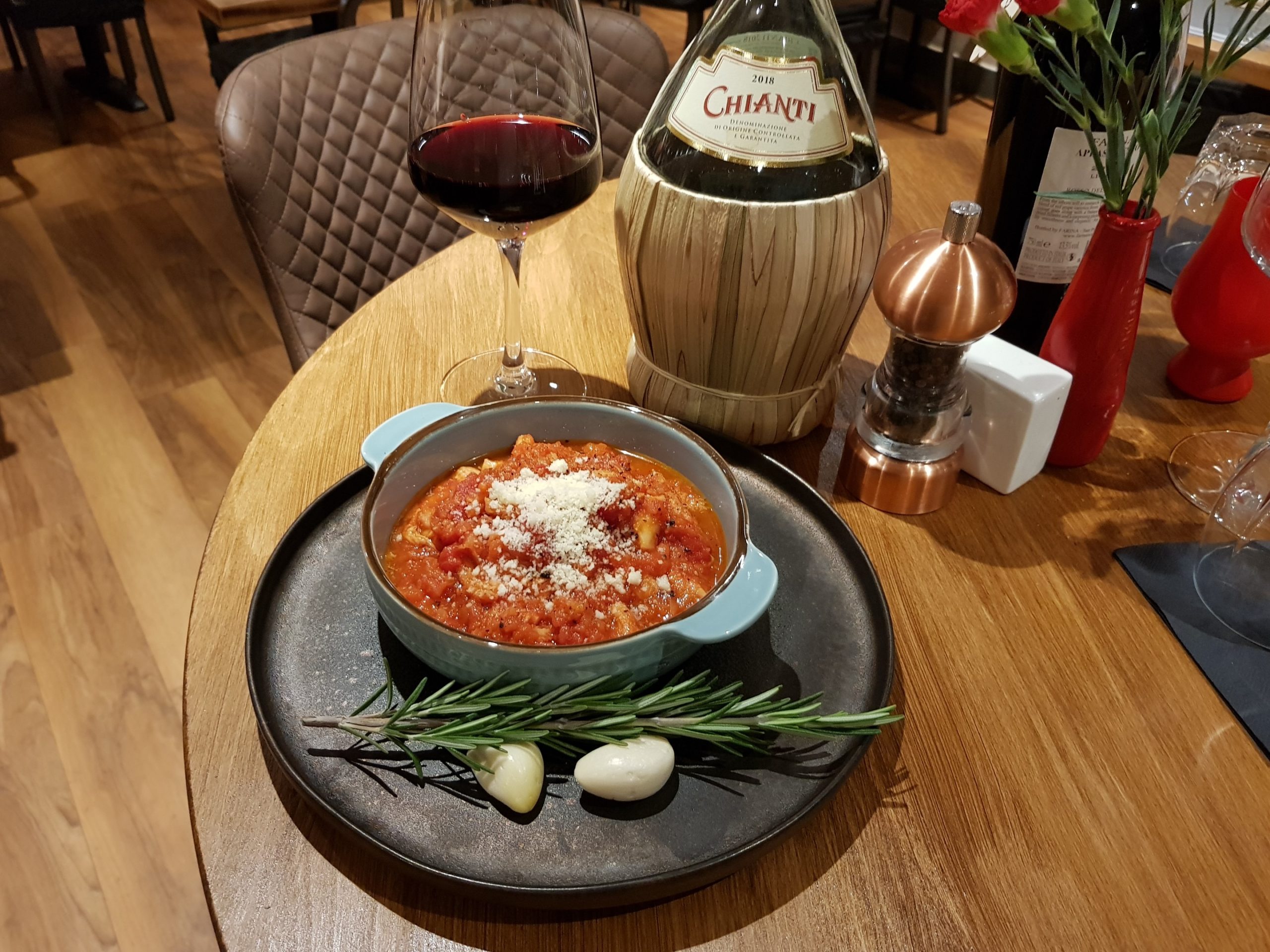 Da Vinci Restaurant in Aberdeen boasts some of the best dishes in town, including the famous Tiramisu and a vegan menu loved by reviewers.
It's proud to serve delicious Italian staples and promote unique yet authentic flavours. From starter to dessert, including the best wine and Limoncello, its aim is to offer an authentic dining experience.
The chefs cook with ingredients of the highest quality, with some delivered straight from Italy but most supplied by local producers. This distinguishes the restaurant from chains, allowing the chefs to serve dishes that have been expertly prepared in their kitchen.
Find out more about Da Vinci Restaurant here.
Order your favourite Redshank Catering street food from Fish 'n' Collect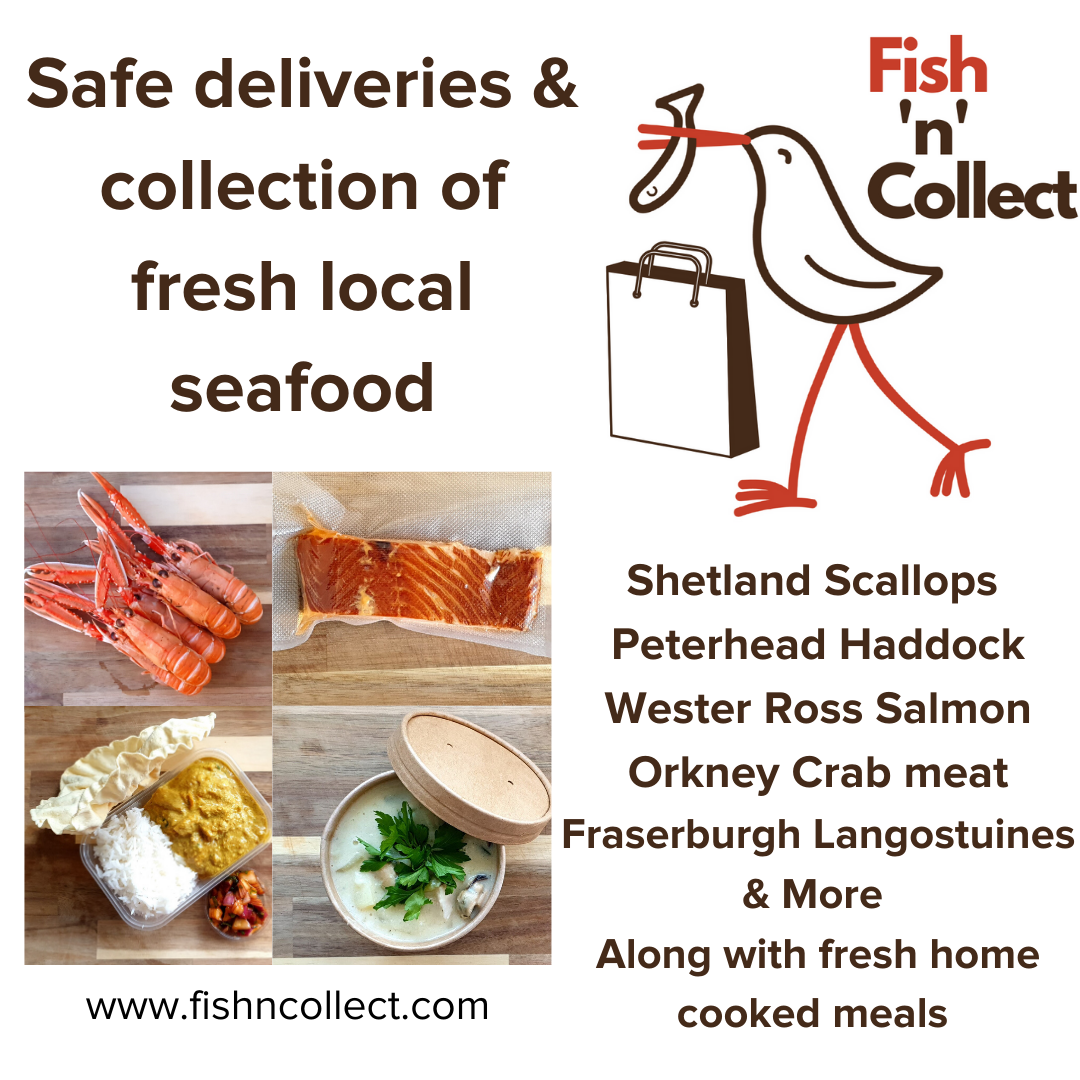 A small family run business based near Inverness, Fish 'n' Collect was developed when their Redshank Catering Co street food trailer was closed for a few weeks.
With the street food, the company concentrates on local (mainly seafood) and fresh ingredients. The same quality is now offered with its Fish 'n' Collect service, offering safe deliveries or collection of fresh local seafood that's packed to order.
Stock changes every week depending on what is landed in the markets.
It's online based, so you can order from the website at any time, choosing delivering or to pick up your order from the collection point.
You can also order home-cooked meals and meal kits, based on the street food the team normally offers from the Redshank Catering Co.
Email orders@fishncollect.com or call 07546567940 for more information.
Find out more on the Fish 'n' Collect website.
Try a homemade chutney from Spice Harmony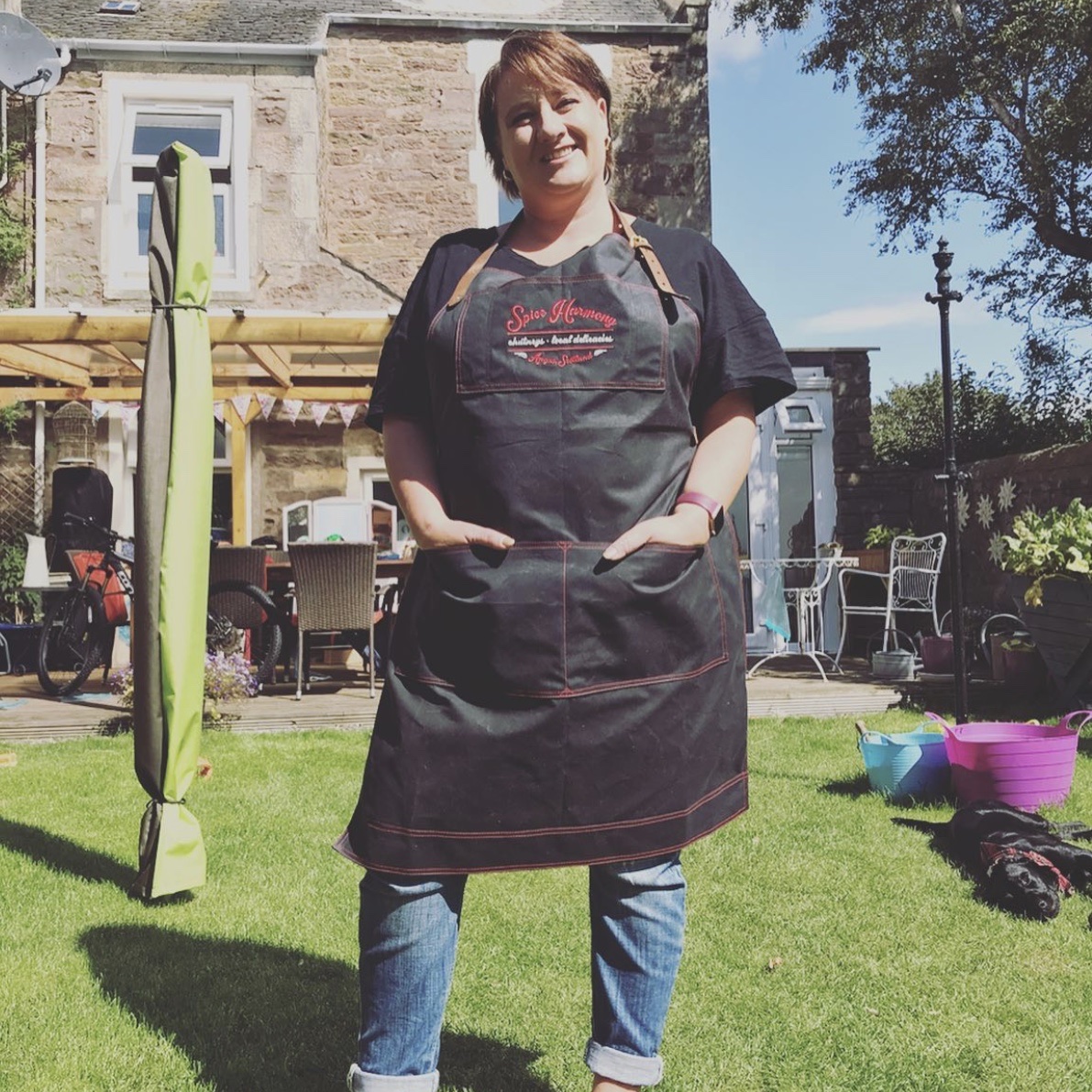 Spice Harmony says: "Soon after moving from my native Germany to Scotland in 2015, I fell in love with chutneys. I have always loved cooking, and I started making different chutneys, which I gave as presents to friends and family.
"Everyone enjoyed them so much, that I was encouraged to start selling them. Towards the end of 2018, I decided to set up my own business, which I named Spice Harmony. I started things off by attending a number of Christmas markets and in no time at all I was completely sold out of all my stocks!
"In 2019, we converted one of our rooms into a second kitchen, specifically for my chutney business. During spring and summer, I was busy nearly every weekend attending farmers markets, food shows and Highland Games, mostly across north east Scotland.
"I use locally sourced ingredients wherever possible, and am always on the look-out for new combinations of flavours. The more unusual and exotic the better! There is nothing I enjoy more than the look of surprise and pleasure on a customer's face when they sample one of my chutneys for the first time!"
Shop the Spice Harmony chutney range here.
Treat yourself with 10% off Miller Coffee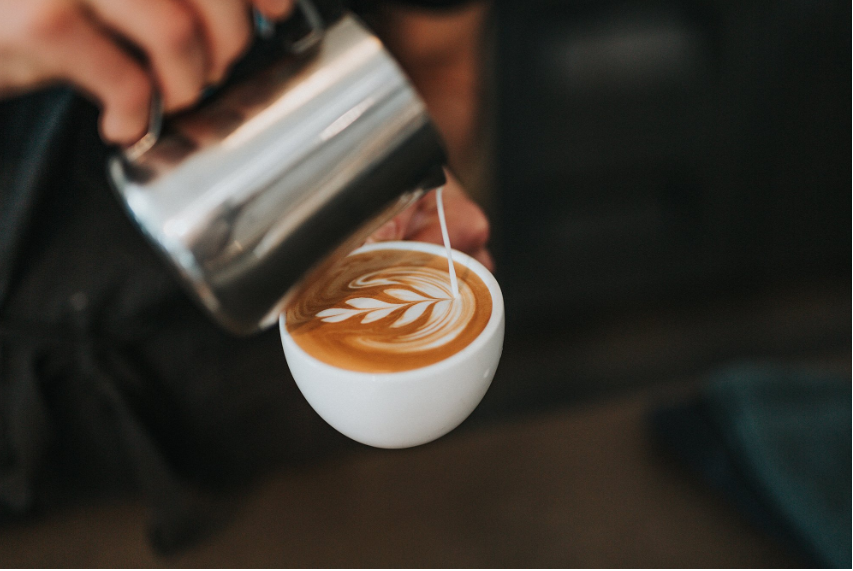 Miller Coffee produce "possibly the best coffee in the world".
It supplies fresh coffee to your door, as well as supplying restaurants and the hospitality sector.
Order your coffee online now and treat yourself to 10% off using this coupon code at checkout: Millercoffee2020.
Go on, you deserve it!
Place an order and claim your discount from Miller Coffee.
Make the most of 'farm to table' produce from Good-Life Farming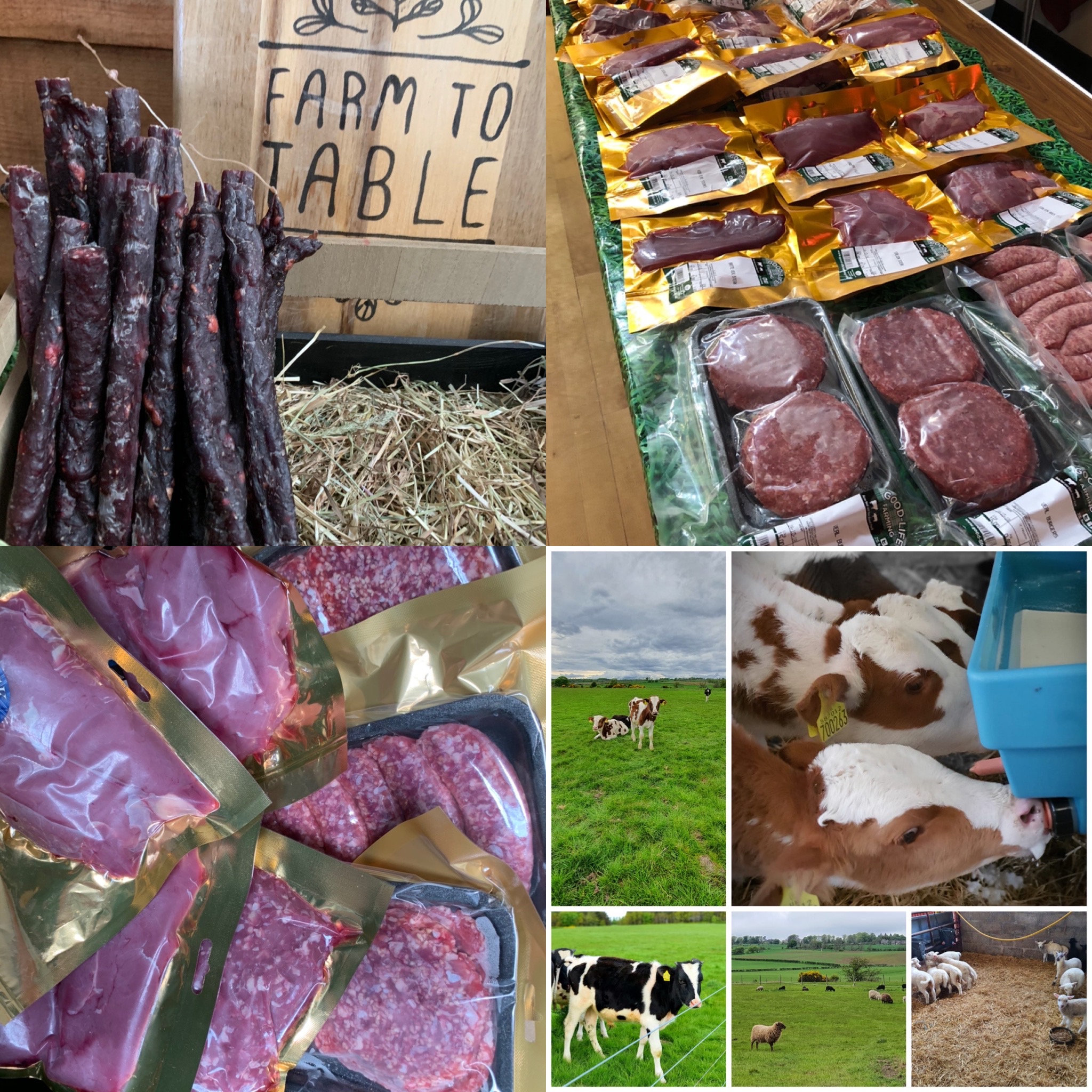 Good-Life Farming is a family business run by Donald and Karen, with the vital support of Jim.
They rear dairy bull calves for rose veal, pork from  large black pigs and the small sheep with big flavour, Shetland sheep. Focusing on the welfare and diet of the animals ensures they bring the tastiest welfare-friendly and grass-fed meat to the market.
Good-Life Farming now offers cured meats made using fresh produce from its own animals – the definition of 'farm to table'.
The company can usually be found trading at farmers markets and food festivals all year round, but during the pandemic, it's successfully moved to online sales. It has been offering home delivery in the local area, but also now offers UK delivery.
'Buy with confidence, support small business and eat well' is the Good-Life Farming approach!
Find out more about Good-Life Farming and how to order directly to your home.
Enjoy award-winning bread from Wild Hearth Bakery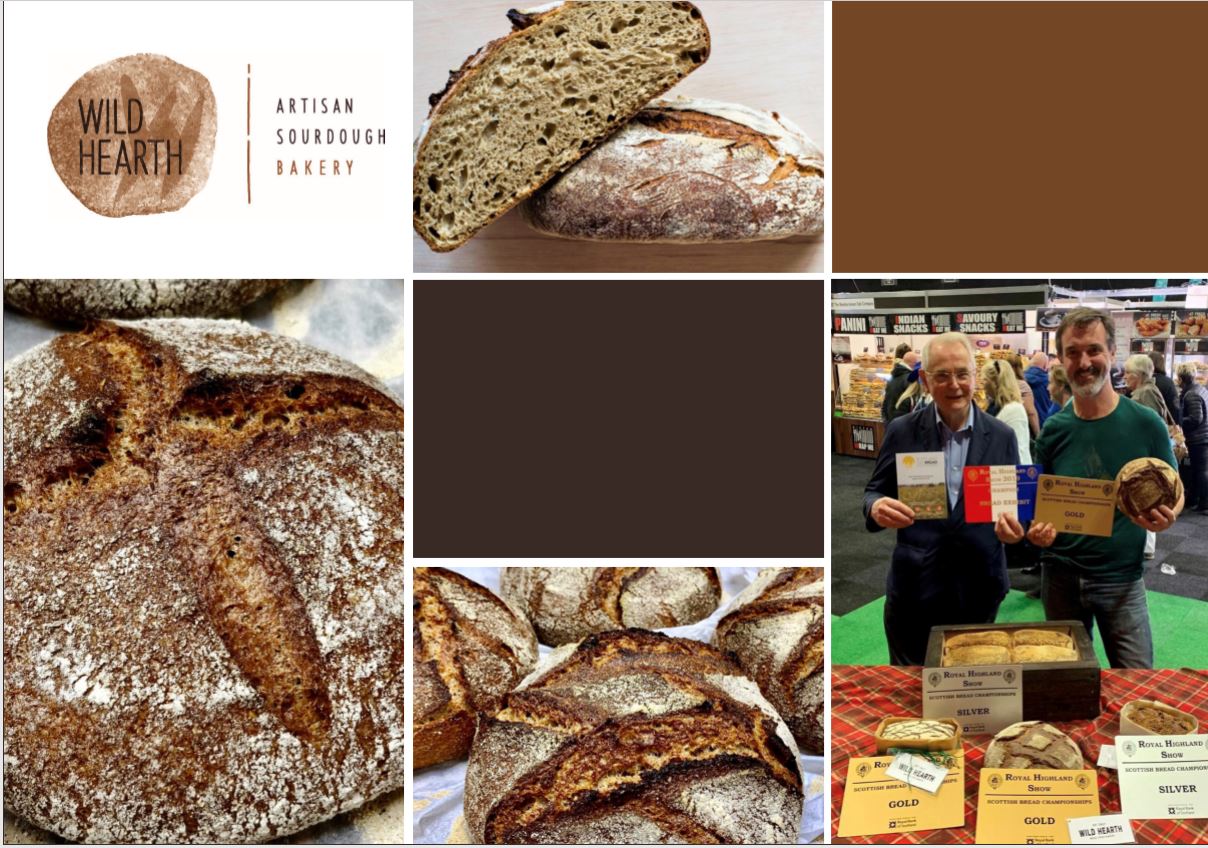 When John Castley left his former career as a chef to establish Scotland's foremost sourdough bakery in 2017, he set his aims high.
In 2018, Wild Hearth Bakery won the Artisan Food Category of the Scottish Rural Awards and in 2019 they won Show Champion, three golds, and two silvers at the Royal Highland Show Scottish Bread Awards.
Wild Hearth Bakery has an absolute commitment to producing wood-fired sourdough breads and pastries of outstanding flavour, digestibility and beauty.
Local is key – the organic rye flour they use is grown and milled in Fife by Scotland The Bread, their pastries are made with Scottish butter from The Edinburgh Butter Company and the fresh fruit they use in seasonal Danish pastries is grown in Perthshire and neighbouring counties.
In response to the Covid-19 pandemic, Wild Hearth established a free home delivery service across the central belt of Scotland.
Learn more about Wild Hearth Bakery's award-winning baking.
Stock up on unusual condiments from Trotter's Independent Condiments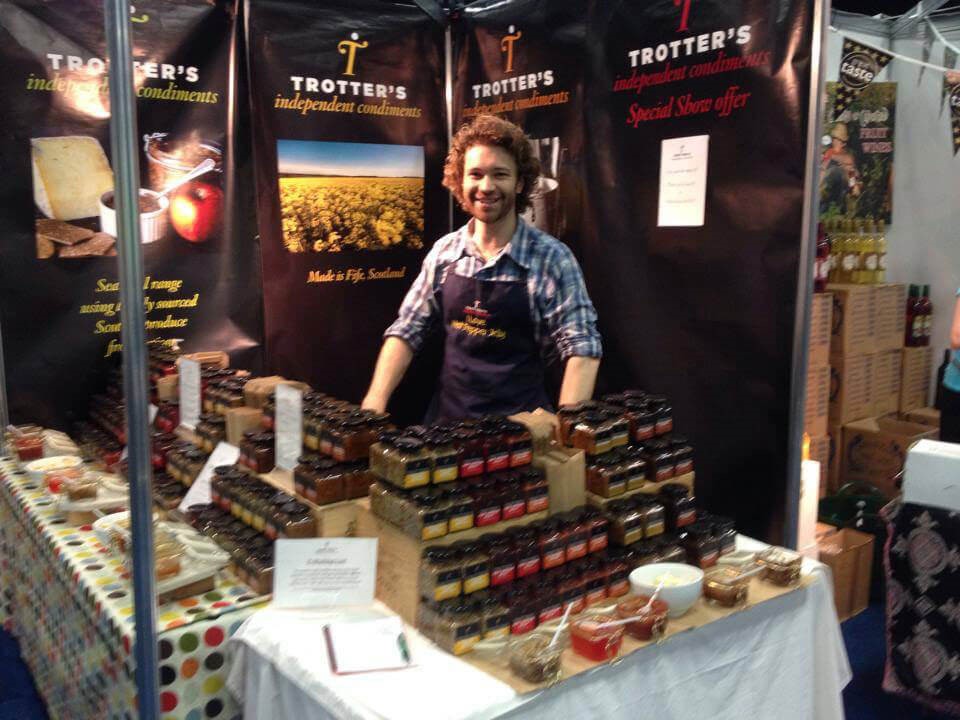 Byam Trotter, Founder of Trotter's Independent Condiments, started the company back in November 2009 after finishing university.
During a family holiday in Italy they came across a delicious condiment called Mostarda. After failing to find a Scottish manufacturer of the product, they instead had to cook some at home following an online recipe.
Byam had wanted to start a business from a very young age and so Trotter's Independent Condiments was launched, with manufacturing of Mostarda and other condiments taking place from the family kitchen in Fife. Products were then sold at the local Fife farmers' markets, farm shops and delicatessens.
The company offers unusual, delicious and seasonal condiments, from Hot Pepper Jelly to Wild Garlic Pesto and everything in between. There is something for every dish and every person.
All year-round and seasonal products include:
Mostarda
Uncle Allan's chutney
Hot Pepper Jelly
Wild Garlic Pesto (spring)
Crabapple Jelly (winter)
Hollandaise (spring and Christmas), and much more.
Find out more about the range available from Trotter's Independent Condiments.
Enjoy outstanding Indian cuisine from Carron to Mumbai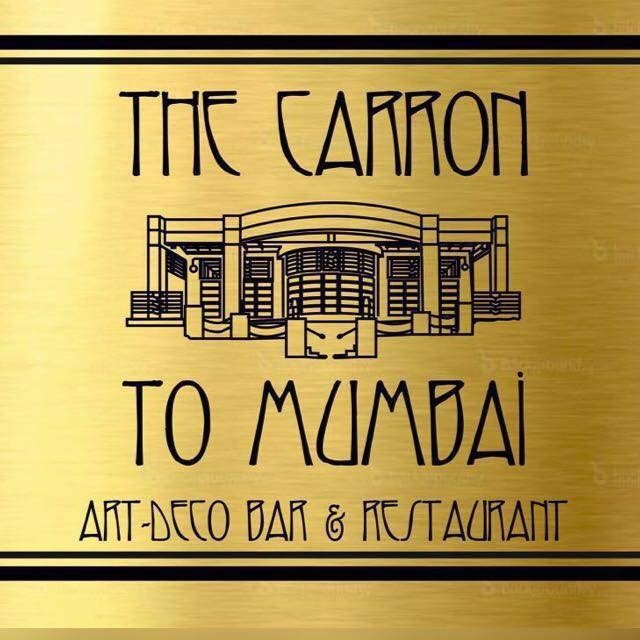 Serving outstanding Indian cuisine in a unique Art Deco setting, Carron to Mumbai in Stonehaven is the perfect place for a tasty takeaway.
The restaurant sources all of its fish, meat, poultry, herbs and vegetables locally. Authentic cooking methods are carefully followed and all meat is grilled, barbequed or steamed.
The menu is the same as usual but Carron to Mumbai is only offering a collection or delivery service at the present time.
The restaurant has a community focus, offering free food for NHS staff, pensioners over 70 and children under 11 (one main meal per order), and a discount for Police staff.
You can also visit its new pop-up shop, NuSpice, which has opened alongside Carron to Mumbai due to social distancing.
It's open seven days a week, 4.30pm until 10pm. Call 01569 765061 or 01569 760460 to order.