Sponsor: Ringlink Scotland Ltd.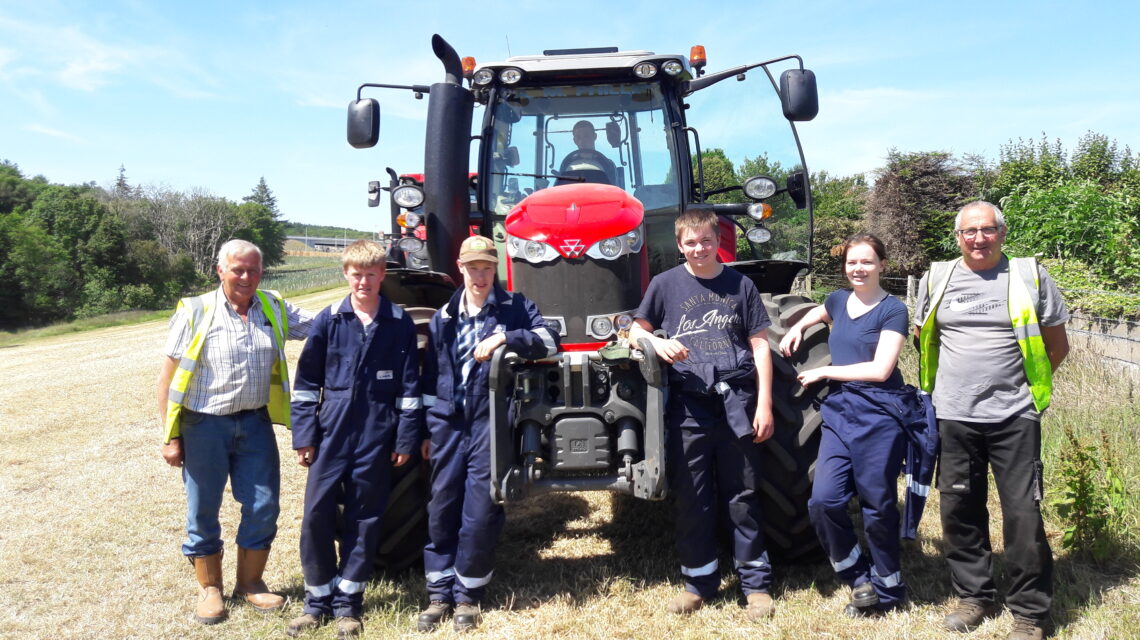 Founded in 1988 as an agricultural machinery ring for members to share machinery and labour, Ringlink has significantly evolved over the years to become a business ring – providing a diverse range of products and services to our 3000 members across the UK.  
Operating from five regional offices: Laurencekirk, Elgin, Oldmeldrum, Coupar Angus and Cupar, Ringlink's experienced team offer a reliable, trusted and personalised service to the membership.  
In addition to its core activities of: labour, machinery, fuel and commodities, Ringlink offers utilities; gas, water and electricity, as well as a wide range of training course provision. 
DEVELOPING THE FUTURE WORKFORCE  
The Land-Based Pre-Apprenticeship (SCQF4) is a work-based training programme and qualification, for young people aged 16-21 years to enter or develop their skills in the rural sector. Launched in 2013, the programme has now supported 106 graduates into the industry, with over 50% from non agricultural backgrounds. 
This programme attracts new entrants by offering an upfront training induction followed by six months full-time employment with a mentor business.  
Holly Kennedy, a past pre-apprentice, summed up her experience: "It's the best way to get into the industry, don't hesitate – just do it!"
For the programme to continue,  need suitable land-based mentors, to offer six months' work placements on either a full or part-time basis. Interested? If so, email: laurencekirk@ringlinkscotland.co.uk or visit the website by clicking here.
Ringlink Services Ltd.
Founded in 1995, Ringlink Services was formed originally to satisfy the training and labour requirements for the growing membership of Ringlink Scotland. Now with Lantra and NPTC City & Guilds accreditation – and over 20 years' expertise in providing the highest quality training solutions, Ringlink Services Ltd. is proud to be a trusted training provider for local council authorities, government bodies and utility companies as well as to individuals looking to acquire new skills or develop their careers.  
Based in Laurencekirk, its experienced team along with a network of professional instructors, assessors and providers, enables the firm to deliver training and assessments throughout the UK. 
With expertise in delivering a range of legislative and practical short courses such as Health & Safety, First-aid and Forklift operation, Pesticides, Chainsaw, ATV's and Driver CPC, the training portfolio currently exceeds 100 certified short courses along with a selection of online training courses.  
Supporting various industry sectors such as construction, haulage, forestry, agriculture, horticulture, estates and public authorities, means Ringlink is well placed to provide training to a wide range of businesses and indeed to those individuals considering a career change or simply looking to enhance their skill set for the future. 
Why Ringlink Services?  
Fully accredited training

 

Training delivered on site

Quality assurance approved

Lantra training

 

City & Guilds NPTC assessments

Countrywide delivery

Professional service

6,000 trainees on average per year, equates to training just over 16 candidates per

day, every single day of the year!
Testimonials 
"

high calibre trainers" 

by

 

Alistair Ewan, Executive Director, SQC.

 

"very professional service" 

 by ANM Group Ltd, Thainstone

 

"exceptional" 

by

 

Estates and Facilities – Grounds Officer, University of Aberdeen 

 
---
To find out more about the various training courses available visit www.ringlinkservices.co.uk or call: 01561 376000.